Sintering is a crucial stage in the manufacture of MIM parts. During sintering, all remaining binder is thermally removed and the metal particles are sintered together. Parts reach final density and form, exhibiting 10-20% linear shrinkage from the green state.
Sintering Furnaces
We utilize two types of vacuum sintering furnaces.


Ultra-High Temperature (1650°C), Stainless Construction


High Temperature (1400°C), Graphite Lined
Alloy Flexibility
With different furnaces, we can process a wide variety of alloys.


Iron-Nickel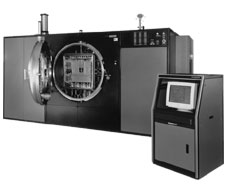 Stainless Steel


Tungsten-Copper


Tungsten Carbide


Kovar®
Ceramic Supports
For part designs with cantilevered or bridge features, custom
ceramic setters are created to support the part during sintering to maintain shape and tolerance.